PROTOTYPING: EXAM RESULTS 2017-2018
RELATED TOPICS

As part of their Prototyping exam, students had to work together in a group to develop a enjoyable board game. The focus of the assignment was not to have a perfectly finished game, but more about the iterative design process, including extensive playtesting and implementing player feedback.
Apart from the design process, students were also introduced to the scrum methodology, which they had to use to manage their project. Even though the visual look of the prototype was not important, some students put considerable effort into polishing their prototype and making it look appealing.
Minos
Be the first to reach the middle! You do this by collecting metal and making keys. But, it is not as easy as it seems! You are on a moving game board. The board can stand in your favor and disadvantage and that is determined by yourself but also your fellow players. So outsmart your fellow players and use your cards!
PiramidRaid
Centuries ago, the dusty surface of Egypt was terrorized by a tyrannical ruler that went by the name of Qo'ori. His deeds and eternal thirst for power made him go insane, yet he never seemed to be satisfied with his riches. He made his loyal servant poison his wife and cold handedly slaughtered his own children. Years went by as he plundered villages and burnt them down, to obtain the ultimate treasure. Legends say that when he did, he peacefully died in his sleep and nothing was ever heard of him or the treasure again. Many adventurers have desperately tried to find a way through his grave to catch a glimpse of Qo'ori's treasure, but none of them ever saw the daylight again. Now it's up to you to set your life at risk in this 'Pyramid Raid'.
Carrot Cravings
It was a rough week. Your children are starving and the only foodsource left is at the farmer's field. Be the fastest to steal his carrots, but beware, he is out for vengeance. Carrot Cravings is a fast-paced, fun game where you have to outplay your opponents with your intuition and sense of direction.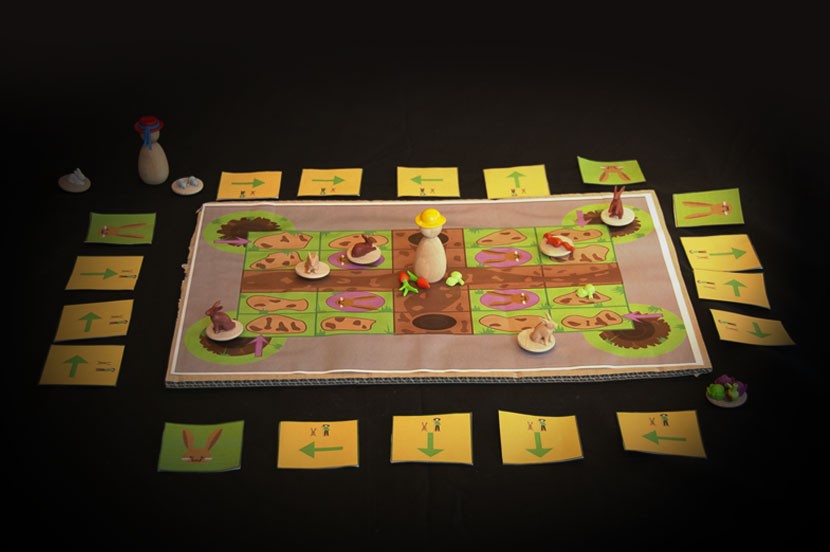 Zoo Break

This board game is a sensational, cooperative experience for anyone of 10 years of age and beyond. You play your turns maneuvering around the zoo as a team of long-captured animals, having lived their whole lives in the zoo. But now, your guards have left your cages open, and it is time to make your escape!
The Quest
The Quest is more than just a game. It's an experiment, a journey, a team experience in which you will become one to defeat all the levels of the game. The Quest is a cooperative and adventurous card game where the emperor invites you to take on the role of some unique heroes, you choose from 6 different and powerful heroes, 3 archetypes: healer, tank and damage. Depending on the chosen path, the 3 heroes can build their strengths and learn how to bundle them to defeat their evil opponent and survive this journey. In the course of nine exciting missions, you will encounter cruel enemies, attack deadly magical creatures and save the empire!